ABOUT METAL CREMATION URNS
What exactly are urns for the cremation?
Cremation Urns are a Beautiful Resting Place for Ashes, allowing families to choose a resting place for their loved one's cremated ashes.
Cremation urns can be customised to reflect your loved one's personality and passions. Urns can be built out of a range of materials and have a variety of finishes.
Metal Cremation Urns are made of Brass Metal, Aluminium Metal,Pewter Metal,Silver Metal & Gold Metal
Sophisticated Memorial Urns for Today's Families
Memorial urns have evolved from basic wooden urns to intricate vessels that not only retain your loved one's ashes but also serve as a beautiful symbol of dedication and remembrance. We have cremation urns to suit every family's needs, from customer favourites to urns designed specifically for men, women, or couples, as well as cremation urns for those on a budget.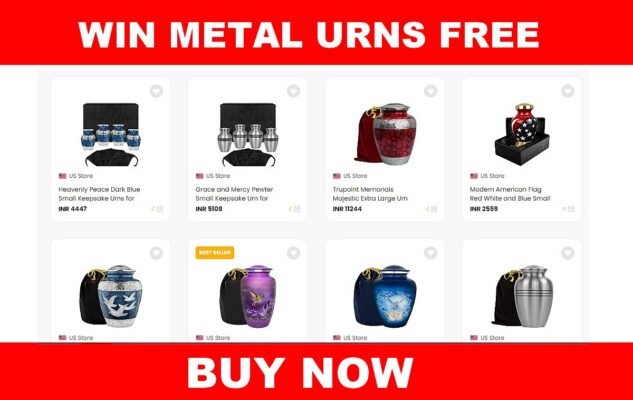 EBICA's Funeral URNS Buying Guide
Before you choose funeral urns, make sure you know your measurements.
Many folks want a memorial urn that will fit into a specific niche. Knowing the dimensions of the location where your urn will be placed is crucial (where applicable). Most of our cremation urns have product dimensions given on the product page, and knowing the dimensions of the area you're working with before ordering will save you the hassle of having to return your cremation urn because it didn't fit.
Keep in mind your own body weight.
Knowing the deceased's estimated body weight is also useful when selecting a funeral urn. Individual, keepsake, companion, and other urns are differentiated not only by their outward appearance but also by their internal volume – 220 cubic inches, 150 cubic inches, and so on. One pound of body weight equals one cubic inch of cremated remains. Knowing your loved one's projected body weight might help you narrow down your choices and figure out which memorial urns are available.
Every Family Needs a Keepsake Urn for Ashes-Metal Cremation Urns
We don't always remember the important details about the people we love. It's generally a certain moment, a grin, a particular behaviour, or maybe just a shared experience. Keepsake urns for ashes retain a few cubic inches of cremains and provide a modest memory of the deceased in the homes of various family members. Small urns are a great option for large families or families who are spread across multiple states or countries since they allow each family member to have their own unique memorial to the deceased.
Are Keepsake Urns available in a variety of patterns, colours, and shapes?
To be sure, keepsake urns for ashes are more than just a vase-shaped urn. Bird figures, flower artwork, and other embellishments on marble memorial urns look fantastic in an office or as a family room accent piece. Bronze urns for ashes are a one-of-a-kind way to honour a loved one and can be exhibited in a foyer on a pedestal or on an end table to match your home's decor.
Keepsake Urns can be custom-made to your specifications.
To honour the deceased, keepsake urns can be personalised in a variety of ways:
Toss in an engraved plate for good measure. These silver, gold, or black adhesive plates can be placed on the urn's surface to secure it. The plate can be engraved with your loved one's name, birth and death dates, or a short message to provide a memorable way to dedicate the urn in his or her honour.
Place a miniature easel next to the urn. The easel, like the engraved plates, has a flat front and is available in a number of finishes. The easel also comes with an adhesive plate that can be engraved with text in the deceased's remembrance. This is a fantastic choice for rounded keepsake urns because adhesive plates do not attach to a rounded surface.
Next to your little urn, place a photo of the deceased. It's a terrific idea for people who have a special photo of a loved one because it serves as a memorial as well as a visual reminder of those who have died.
When it comes to the love we shared with those closest to us, it's not just about the big moments. By capturing and exhibiting a brief reminiscence in memorial urns, every member of the family may join in honouring their loved one.
BUY OR WIN FREE
Buy your favourite Cremation URNS from Top International Brands from USA, CANADA, AUSTRALIA
Participate in EBICA QUIZ CONTEST & Win Free Metal Urns
Please visit www.ebica.in to purchase Top Quality Cremation URNS from world-renowned brands or to enter the EBICA QUIZ for a chance to win FREE KEEPSAKE URNS.
You hand-picked the best-selling cremation urns.
Our most popular urns are the cremation urns that our clientele have repeatedly chosen for their versatility and beauty. Our customers' favourite urns are beautiful customised expressions of their loved ones, giving families all over the world a timeless resting place for their ashes.
Some recommendations for choosing a cremation urn
The size of the cremation urn is significant. Cremation urns are available in a many different sizes. Check the specs for solitary memorial urns, souvenir urns, and urns specifically designed for couples to ensure you get the proper size urn for your needs. Individual urns can store up to 200 cubic inches of cremated ashes, souvenir urns up to 20 cubic inches, and couples urns up to 400 cubic inches.
Personalization options
Prepare to personalise your urn. All of our memorial urns can be personalised in a variety of ways, from an engraved plate that attaches to the urn's surface to an engraved easel that can be displayed next to the urn. For a few more dollars, you can enhance the personal nature of your cremation urn and make it unique to your loved one.
Think about where you'll display your urn. Some urns are designed for a more formal display in a living room or family room, while others are designed for a more discreet display in a bedroom.
Knowing where you want to put your urn and whether or not you want to put the cremation urn on display will help you narrow down your choices.
Our most popular cremation urns provide you with what our customers have picked as their favourites, removing the guesswork from the equation. Families can have a beautiful way to bury their loved one's ashes by commissioning magnificent pieces of art with excellent craftsmanship.
EBICA
is a leading e-commerce business that sells high-quality cremation urns to significant consumers all over the world through TOP International Brands.
Thank you.